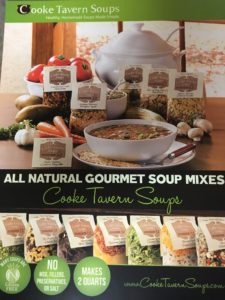 The 5th Annual AB Friends of Music "Scrumptious Soup" fundraiser featuring Cooke Tavern Soups has started!
Begins Monday, December 17
Order forms here and in the Chorus Room
Ends Monday, January 14
Money must be collected with the order
Checks only, no cash
Checks payable to ABFOM
Return orders & checks to Ms. Moss, Mr. Arsenault or Ms. Greene
Orders MUST be picked up on Monday, February 4th anytime between 8am-4:30pm.
Students earn 45% of the total amount they sell
These all natural, freeze-dried soups are easy to prepare & have a 1-year shelf life. Vegetarian, NO added preservatives, salt or MSG, & there are lots of Gluten-Free options. Great for gifts! All earnings students raise may be put towards things like end-of-the-year Music Banquet tickets, payments for the Chorus Concert Tour in April, uniform purchases, etc!