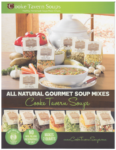 Order forms in Chorus & Band Rooms
Ends Friday, January 31
Money must be collected with the order
Checks only, no cash
Checks payable to ABFOM
Return orders and $ to Ms. Moss, Mr. A or Ms. Greene
Orders MUST be picked up on Friday, February 28 at school anytime between 8am-3pm.
Students earn 45% of the total amount they sell
These all natural, freeze-dried soups are easy to prepare & have a 1-year shelf life. Vegetarian, NO added preservatives, salt or MSG, & there are lots of Gluten-Free options. Great for gifts! All earnings students raise may be put towards things like end-of-the-year Music Banquet tickets, payments for the Band Trip to NYC in April, uniform purchases, etc!