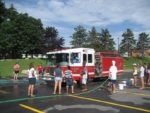 The annual Fall Band, Chorus and Orchestra Car Wash fundraiser takes place Saturday, August 25th. (Rain date August 26th).
Students will sign up via band camp sign up sheets, Orchestra and Chorus students should sign in at event!   All Students are strongly encouraged to participate.
*** ALL PROCEEDS SUPPORT THE ABRHS MUSIC DEPARTMENT ***
We are looking for parent volunteers to supervise, drink coffee and provide a smile. If you are available, please respond with which 2-hour shift you prefer by clicking on the link here: Volunteer to Supervise – have fun and drink coffee!
Students wash . . . Parents supervise!
Please also indicate if you can bring your generator, snacks, drinks and other goodies to help make the day a fun and successful fundraiser for the Music students.
Remember to bring your car(s) for a wash/vacuum!
Ask your child when they are coming to volunteer and you can sign up for that time too! It's a great way to spend time with our kids and support our music program!
Thank you so much for your help!
Questions? Contact Flemming Christensen (flemmc@nullgmail.com) or Steven Feinstein (steven.feinstein@nullrsa.com).