Read blog posts about Band, Orchestra, Chorus and Color Guard events here!
Dec 30th 2017, day 3 of the Orlando trip:
"Things are not what they seem"
For day 3, our ABFOM President has given the blog pen over to one of the chaperones, and I thought I'd give you my perspective from the sidelines:
Things are not what they seem.
Much about this day and this trip is not what it seems. Hogwarts Castle was impressive. It's built to surprise you. A painting turns out to be live and suddenly speaks. A statue turns out to be not so static and suddenly moves. Surprise, surprise. Things are not what they seem. Carry that idea out into the – frankly very long – waiting lines for the amusement park rides. It is amazing how well park designers conceal the lines. Meandering between buildings, they are out of sight of other park guests. Even for those in line, they turn through alleys, courtyards and rooms, such that you can never see the whole line in one view. The line is not what it seems; it is much longer.
Take last night. The students thoroughly enjoyed the Blue Man group performance, and once again, the central element is surprise, built on creativity. As in the 10-ft diameter balloons decorating the ceiling that suddenly dropped like beach balls. Or their interior lighting changing colors in concert with each other. Surprise, they were much more than ceiling decorations.
We see and hear things that aren't quite what they seem, and we marvel at the surprises. As chaperones, we are very tuned to the idea that things aren't what they seem. Start with ourselves. The very term chaperone conjures up images of a stiff lipped grand aunt making sure no PDAs are allowed. But we know our roles are much more than that. When everything seems to be going perfectly, we ask what might not be what its seems: All the students were checked into hotel rooms upon arrival and seemed all set. But look closer and none of the rooms had four towels or four blankets for four students. Housekeeping quickly got to know our chaperones, as we helped place requests for many rooms. Today, after the bus ride from the parade to the theme park, students seemed content and headed into the park. All looked good. But we did a sweep of the bus and found three band shoes and two socks. When students go to bed, we make sure lights are out; Last night we found one door that could be opened from outside, because the springs hadn't completely closed it. There's the pseudo reality you think you see, and then there's the real truth. As chaperones – ok you may call us worry-warts – we suspect things aren't what they seem, and sometimes, we're right! That's what we do. We Test. Audit. Question. Verify. And check again. Makes us sound like a bunch of tax form auditing bores, right?
But that too is not what it seems. We in fact have a really great set of people as chaperones. I won't say which chaperone forgot her ABRHS jacket for the parade, but I will give the team player of the trip award to Joost Quaadgras for giving up his. I won't say which band member busted an ankle, but I will give the medic award of the trip to Nancy Cataldo and Judy Holmes for being all over helping with needed care. I won't say which trumpet player sent a valve flying during a horn move in the parade, and didn't notice, but I will thank Starla Hazen for realizing whose valve landed near her and for quickly & discretely getting it back onto the trumpet, while the parade was in motion, making the full register playable again. Our amazing truck drivers Steven Feinstein and Chris Russo. Uniform fitters. And fellow chaperones who right now, while I blog, watch 50 or so band & guard members in the outdoor hotel pool. The hotel staff is marveling at these Boston area kids braving what to a Central Florida resident seems like a chilly evening. So many great helpers working as one team.
These traits carry over to students. The busted ankle student had tons of support from fellow band members. When a student lost their park ticket, another student found it on the ground (incredible, given the size of the park) and alerted the owner. Every day, and every hour of every day, we witness small acts of kindness, compassion and camaraderie between the music students. It's a truly beautiful sight to behold, if only you have the eyes to see what might not be what it seems at first. When you look closer at every situation throughout each day, there is usually a heartwarming depth of caring and character to these young musicians.
Which brings me to the reason I'm here in Florida. Why would I give up vacation time and spend travel dollars to be a worry-wart and a boring controller toiling 18 hr days? The answer is simple: Because being around these wonderful young people is so incredibly reassuring. Does it seem the world is getting crazier by the day? Political squabbles. Shootings. Violence. Greed. Racism. Unkindness. Plenty of worrisome trends in this world. But when you spend time with these talented music students, you know that things are not what they seem. To the contrary. The future is in the best of hands. Theirs.
I give you the AB Marching Colonials of the Florida Citrus Parade:



Yours truly, ~Chap E. Rone
Dec 29th 2017: Second Day of Orlando Citrus Parade trip.
Up early for breakfast at 7:30 am and on to the bus ready to attack the parks by 8:30 am. And what an experience for these students! The students were in a hurry to form their groups, and get to as many attractions as they could. Dinner time conversations included Harry Potter World with Hogwarts's Castle and the Village: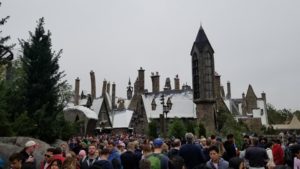 the Hulk: (yep – that is Mr. Hickey – notice the students are hanging on and he has his arms up!)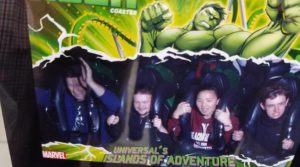 and Spiderman, Jurassic Park, Skull Island – Kong's Reign, and many other adventurous rides and amusements.
A full day of fun with an average temperature of 68 degrees – not much sun but certainly better weather than minus 7 degrees!
Marking the high point of the day for the students, was the Blue Man group. Such creativity and artistry, and who knew that there could be so many new and different drumming arrangements. The students will be discussing this performance for years to come.
Tomorrow the Band and Color Guard will be out the door bright and early again heading downtown Orlando for their feature parade. Look for them via Live stream tomorrow (Saturday) at 11 am on https://www.floridacitrussports.com/event/florida-citrus-parade/
Dec 28th 2017: First Day of Orlando Citrus Parade trip.
Everything functioned like clockwork for the AB Marching Colonials today. They had a very early morning meet time, schlepped their luggage onto the school buses, and down the road we went to T.F. Green airport in Providence, Rhode Island. Upon arrival, each student had to check in for their boarding pass, but again, no major challenges and the students enjoyed getting through security like professional travelers.  Dunkin Donuts was open so all was saved!
I can tell you that these students are well traveled – the other passengers on the plane all had looks of panic on their faces when the gate agent announced that ~100 teenagers from MA would be joining them. It was really kinda funny since the only loud passengers on the plane ended up being a few crying infants. Definitely a well-traveled band!
Leaving single digit temperatures and landing to a balmy 72 degrees was absolutely wonderful! It was great to shove those jackets and fleeces back into the suitcases to remain on the bus, and skip off to the park for a fun filled day. So much to see and explore! The students will come home with memories of Harry Potter world, or that amazing but very wild Hulk Ride, or what about Jurassic Park! And the Christmas decorations across both parks aren't too shabby either!
After exploring, the students met back stage at Universal Studios, where they changed into their uniforms, warmed up those horns, and at 7:15 PM, they stepped off to march in the Universal Holiday Parade. The parade wound its way through narrow and cozy lanes, where the park staff would clear a path for the bands – a very intimate and wonderful environment. So many cheers and especially, when they performed "Happy"! As they passed the Despicable Me – Minion Mayhem ride, the crowd just roared!