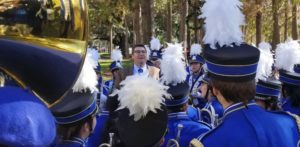 Donations can be made to the Mark Hickey Scholarship Fund, which provides for the Band Commitment Scholarship.
Contributions can be made via PayPal
or by sending a check to ABFOM. Please write the check out to ABFOM but indicate Mark Hickey Scholarship Fund on the notes line of the check. Checks can be mailed to: ABFOM, PO Box 2334, Acton, MA. 01720
If you encounter any problems with the PayPal link, please send an email to webmaster@nullabfom.org.